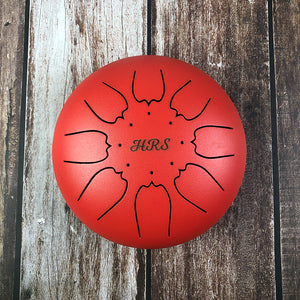 Relaxation Studio
6 inch Mini Handheld Tank Hand Drum with 8 Notes
Sale price Price $ 50.00 Regular price Unit price / per
Take this mini hand drum with you to relax on the go!
A hand-held-sized 6 inch 8 notes percussion tank hand drum is perfect for kids and adults alike. It's small sized, so you can take it anywhere. Start learning today!
The hand drum is applicable for yoga, meditation, music education, relaxation, etc.
Easy to get started even if you don't have any musical background -Product sound using hands or sticks; suitable for both kids and adults 
Handcrafted using high-quality material that produces crystal clear and eternal sound
Can be played using hands or mallets 
Size: diameter: 16cm; height: 8cm
Tone: Standard C
Notes: 8
**The kit comes with a drum, a set of drum mallets, finger caps, stickers, a cloth bag, and a study book. 
** Free shipping worldwide